Dia De Los Muertos
Souls of the City Returns to Old Sacramento for Dia de Los Muertos
Since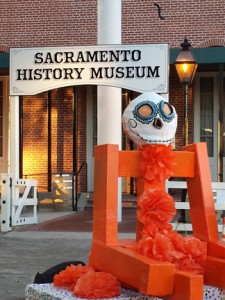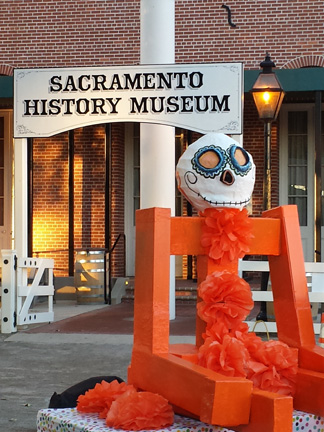 2011, Sol Collective has worked to bring the ancient tradition of Dia de los Muertos (Day of the Dead) to the Sacramento community. Shrouded in mysticism for many Americans, Day of the Dead is a Mexican tradition celebrating and honoring the lives of relatives and ancestors past. Sol Collective's annual Souls of the City festival and cultural arts programming offer hands-on education about the deep-rooted history and traditions of Dia de los Muertos.
Check out last year's celebration here.
For the seventh year and in partnership with the Sacramento History Museum, Sol Collective will be hosting workshops in sugar skull making, altar building, and the history of Dia de los Muertos through arts. These workshops are open to anyone in the community interested in learning about the ancient traditions and culture behind Dia De Los Muertos. Sol Collective believes that it is through open education and sharing of cultures that respect, understanding, and equity are cultivated. In our current political climate it is this education that separates cultural appreciation and cultural appropriation. We encourage community members of all ethnicities and socioeconomic backgrounds to come out, learn the history, and participate in honoring their loved ones passed.
Souls of the City 2018 Schedule
Note: All workshops take place at Sol Collective, 2574 21st St, Sacramento, CA 95818

Workshop 1 – October 6 // 11am -2pm // Paper Flowers with Xico Gonzalez
Led by Maestro Xico Gonzalez, participants will learn basic papier-mâché techniques and the art of making paper flowers. Participants will make flower vases to be placed on altars for the traditional honoring of ancestors. If possible, participants are encouraged to bring empty glass soda bottles.
Workshop 2 – October 13  // 11am -2pm // Printmaking with Luis "Lurac" Campos-Garcia
Led by Sol Collective Arts Director Luis "Lurac" Campos-Garcia, this fun and creative workshop introduces participants to the history of printmaking, tools, and techniques of relief and block printing as well as to Mexican culture and the importance of Día de los Muertos. All participants will make their own prints to take home.
Workshop 3 – October 20 // 11am -2pm // Mini Altars with Florentina Favela
Florentina Favela, local artist and teacher, will be instructing the Mini Altar workshop at the Sol Collective this year for the seventh year running! Join us as we prepare to honor our loved ones with a miniature altar to display in your home, office, or classroom. Bring your own personal photo (smaller sized photocopies work best) and other items that remind you of your loved ones. Set up your altar with mini pan dulce, candles, flowers, and other items to add to your ofrenda! This workshop is suitable for all ages.
Workshop 4 – October 21 // 11am -2pm // Sugar Skulls
Sugar skulls are a traditional offering used to celebrate the Mexican holiday Dia de Los Muertos. Usually placed as decorations to recognize those who have passed away, the sugar skull represents a departed soul and can have the name written on the forehead to be placed at a home altar or gravestone to honor the loved ones no longer with us. In this workshop Sugar Skulls will be colorfully decorated with icing, tin foil, glitter and colorful sugars. Fun for the whole family! And If cared for and kept dry, they can last for years.
Workshop 5 – October 27 // 11am -2pm // Plaster Masks with Amar Azucena Cid
This workshop will teach the traditions of creating Dia De Los Muertos masks using plaster. These masks are traditionally used to hide one's identity during Dia De Los Muertos ceremony. Participants will learn the techniques behind plaster mask making and decoration. This workshop is hands-on and communal. All participants will leave with a custom created plaster mask they have created.
All workshops sliding scale donation 5-$10  *No one turned away for lack of funds!! Scholarships available: sol@solcollective.org
Honoring Our Past – October 18th // 6:00pm-8pm // Sacramento History Museum
Join community members as they discuss the meaning and history of Dia de los Muertos. Every year we honor community members who make a community impact.
Souls of the City Festival – November 3rd // 4pm-9pm // Sacramento History Museum
We invite the entire community to come join us as Sacramento Aztec Dancers Maquilli Tonatiuh lead the official Day of the Dead ceremony at the annual Souls of the City festival in Old Sacramento.
 More information about Souls of City activities are available at http://www.solcollective.org/