Underground Tours
It's Jacked Up! Click below to see the 2020 Winter Schedule.

Come see and learn how Sacramento lifted itself up out of the flood waters during the 1860s and 1870s!
Tour guides explain how the streets and buildings were "Jacked Up!" to avoid further flooding as visitors explore two spaces that were created by the city's successful raising process. This historical tour includes hollow sidewalks, sloped alleyways, and the Underground spaces themselves. Our colorful cast of guides ensures no two tours are ever the same!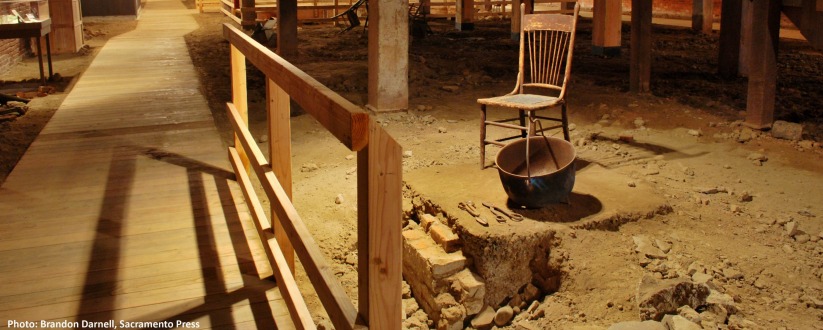 Old Sacramento Underground tours depart from the Sacramento History Museum at 101 I Street in Old Sacramento. This half-mile guided historical walking tour lasts approximately one hour and visit areas with uneven surfaces and low ceilings. The tour is ADA compliant and can accommodate up to 20 people.
Come dressed for the weather outside! You will be outside until you reach the underground spaces, which are not temperature controlled. We recommend comfortable, closed-toe shoes for the uneven terrain of the tour route.Tours run rain or shine!
Please note, when events are occurring downtown, at the Golden One Center, or at Raley Field, parking can be sparse in Old Sacramento. Please leave extra time to find parking if taking a tour on an event day.
Please note, there is no photography in the Underground spaces.
Underground Tour Schedule:
Our 2020 Winter Underground Tour season run is underway, weekdays at 1 p.m. and 2:30, and weekends at 11 a.m. and 12:30. Every second Sunday we offer a Spanish-speaking tour at 3 p.m.  Follow the link below for calendar and to buy tickets.

Tickets are $18 for adults and $12 for youths age 6 to 17. Children 5 and under are free; however, the tour is not recommended for this age group.
Reservations are recommended since tours do sell out. Please note that tickets are non-refundable and non-exchangeable.
Want a private tour? Private tours can be booked for up to 20 people for a flat rate of $360, based upon availability. Please email Shawn Turner, at sturner@sachistorymuseum.org or call (916) 808-1946.
Underground School Tours:
School Tours run all year long! To book an Underground school tour, please contact the Education & Interpretive Programs department at 916-808-7059. Tour dates and times will depend on program availability. Please note the museum a strict 25 person maximum (including adults) per Underground school tour.