Underground Tours
Old Sacramento Underground Tours Return!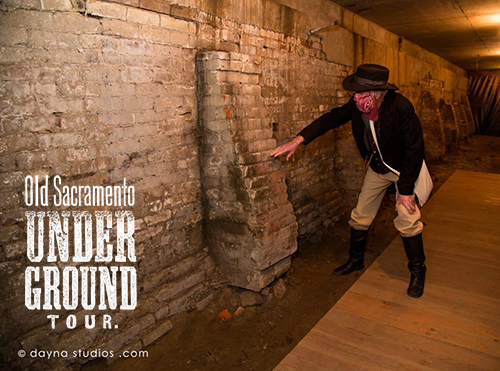 Underground Tours
Tickets are on sale for our popular Old Sacramento Underground Tours which run seven days-a-week. Ticket prices for adults are $25.00, and ages 6 – 12 are $18.00. Children 5 and younger are free. Tours are limited to 20 per group. Underground Tours run approximately 1 hour.
To book your tour click below or call the Front Desk at 916-808-7059. We hope to see you soon!
Come see and learn how Sacramento lifted itself up out of the flood waters during the 1860s and 1870s!
Tour guides explain how the streets and buildings were "Jacked Up!" to avoid further flooding as visitors explore two spaces that were created by the city's successful raising process. This historical tour includes hollow sidewalks, sloped alleyways, and the Underground spaces themselves. Our colorful cast of guides ensures no two tours are ever the same!
Your tour will begin at the Sacramento History Museum, 101 I Street in Old Sacramento.Please arrive 10 to 15 minutes early, and check in at the Front Desk of the Museum. Names will be on a list, there is no need to print tickets. Tours depart precisely on time.
Tours run rain or shine, please dress for the weather outside. We recommend comfortable, closed-toe shoes for the uneven terrain of the tour. Metered parking can be found on the streets of Old Sacramento or in the Old Sacramento Parking Garage on 2nd and I Streets. TICKETS ARE NON-REFUNDABLE AND NON-TRANSFERABLE. A $1.25 processing fee will be added to each transaction. CHILDREN 5 AND YOUNGER ARE FREE, BUT MUST BE INCLUDED IN YOUR TICKET ORDER.
Please note this tour is designed for the public and is not a school or classroom tour. To learn more about our school program offerings please visit our Education Page.
Photography and recording is not allowed in our Underground spaces.