What's New(s)?
People are talking about us!
| | | |
| --- | --- | --- |
| | ABC10's Mark S. Allen stopped by this week to chat with Howard the Printer and Jared and to hear some exciting news about our social media followers! Take a look… |   |
Celebrate Ten Years of Jacked Up Fun!
Join us as we celebrate ten years of Underground Fun! Underground Tour guides and tour volunteers from the past ten years gathered on July 13, to celebrate 10 tour seasons. The Museum has paid off its loan from the city to build the Underground Tour, and now plans on new tours to celebrate Sacramento's eye-popping history.The Mayor (C.H. Swift, from 1860s Sacramento City) officially decreed hope that the city enjoys 150 more years of prosperity. Thousands of visitors have wandered through the city's underground as guides, portraying figures from Sacramento's Gold Rush past, tell the amazing story of the city's survival against frightful odds.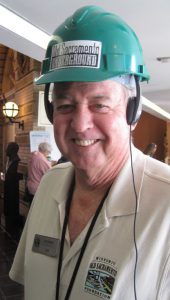 Mayor Swift was there from the start, on the tour's first official day, July 10, 2010. Except back then he was Ted, one of the original volunteers helping convey guests safely on the tour route.Ted became a Tour Guide, and now spends his weekend mornings as the Mayor of Old Sacramento, the first friendly face you see in town, showing you around and letting you know about tour times.Original guides Jane and Ted C. joined original guide Sarah to reminisce in the Underground spaces; some of the guides and volunteers, including original volunteer Nicholas, had not experienced some of the tour's light and sound effects.Miss Odessa, aka Jane, has led tours from the beginning and regales guests still today. She brought her family to reunite with guides.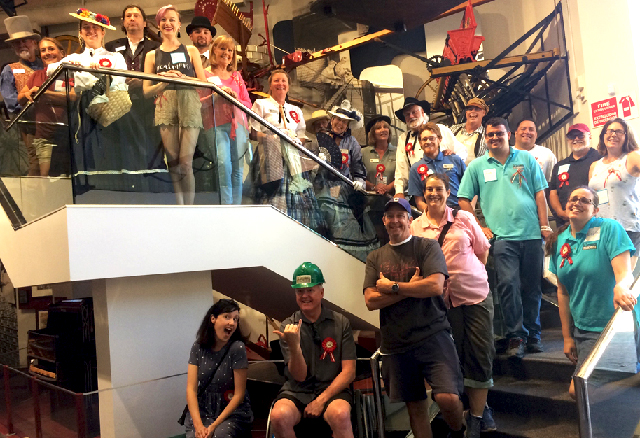 Staci, the tour program's original Tour Manager, reunited with guides and volunteers. Staci now works for the Center for Sacramento History, the city's archives, as curatorial assistant.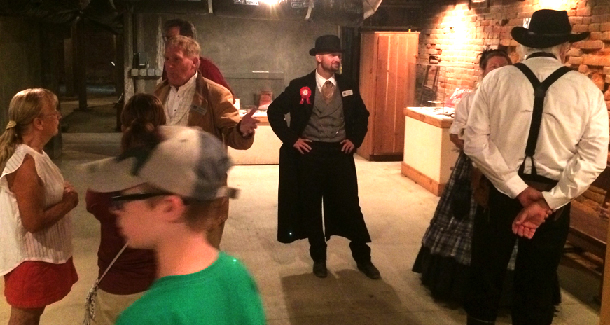 Greg, who can claim to have led Museum tours even before the Underground Tours began, joined with one of the newest guides, Heather, and her mom, beneath the B.F. Hastings building.Mayor Swift proclaimed the day official, while guides and volunteers sported cockades made especially for the occasion by Tour Coordinator Nicolette, along with the Education Department staff Susan and Zoey. Longtime Old Sacramento Living History volunteer Robin showed them how to make cockades. Nicolette threw the party for guides and volunteers, complete with cake and a sparkling cider toast. Interested in taking an Underground Tour? Click Here for more information.