After Hours Date Night: An online frolic!
Let's get virtual!
Make a date for scandal!
Don't let the lockdown get you down! We'll excite your night with plenty of Gold Rush scandal and mayhem – from the safe comfort of your couch. Grab your honey and join us for After Hours Date Night: An online frolic!
It's a playful twist on our popular Underground After Hours Tour, live online while we're all stuck at home.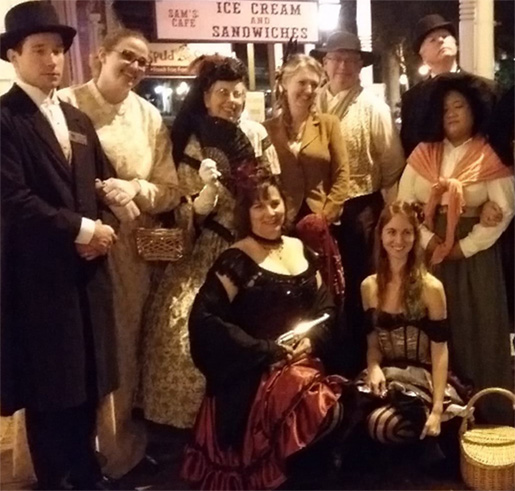 From your computer or TV, you get a front row, up-close-and-personal stroll with denizens of Gold Rush Sacramento City, when gambling spilled into the streets – and so did ladies of negotiable affection!
The only danger is your guide.
Who will it be? Fanny Seymour, the fiery madam who escaped arrest to run guns during the Civil War? John C. Keenan, who with his wife Roseanna turned prostitution into an international franchise? Johanne Hiegele, longtime madam whose wiles kept her a step ahead of the law? Or maybe Miss Odessa, who's above all this debauchery – but not above telling you all about it? 

Make a Date!
After Hours Date Night is live at 7 p.m., (PDT), Friday night, September 4. Registration is $15 PER SCREEN.
The night is yours: Ask your guides what you've always wanted to know about Gold Rush nightlife. Suggest topics or Old Sacramento haunts your guides can show you.
When you register, we'll send you ideas on Gold Rush games, cocktails and mocktails.
How you dress is up to you.