Gold Spike Lecture Series
Tickets:  $7 for members
(Sacramento History Museum, California State Railroad Museum and Crocker Art Museum)
$14 for general public

Thursday, June 27, 2019- Richard White; Winner of a MacArthur Fellowship and the Parkman Prize, is the Margaret Byrne Professor of American History at Stanford University. Author: Railroaded: The Transcontinentals and the Making of Modern America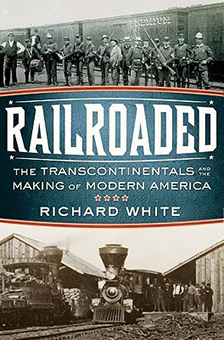 7:00 PM – The Transcontinental as a business venture and how it shaped the American West.
With characteristic originality, range, and authority, Richard White shows the transcontinental railroads to be pivotal actors in the making of modern America. Their attempts to generate profits from proliferating debt sparked devastating panics in the U.S. economy. Their dependence on public largess drew them into the corridors of power, initiating new forms of corruption. Their operations rearranged space and time, and remade the landscape of the West. As wheel and rail, car and coal, they opened new worlds of work and ways of life.
Location: California State Railroad Museum
Thursday, July 25, 2019- William Deverell– Historian specializing in California and the American West, Director, Huntington-USC Institute on California and the West, Professor of history, USC Dornsife College of Letters, Arts and Science.  Author:  Railroad Crossing: Californians and the Railroad 1850-1910.
7:00 PM – California's complicated relationship with the Railroad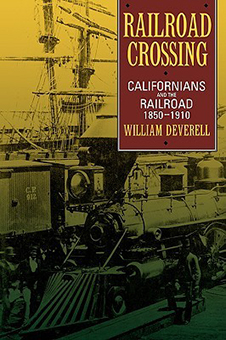 Americans clamored for the progress and prosperity that railroads would surely bring, and no railroad was more crucial for California than the transcontinental line linking East to West. With Gold Rush prosperity fading, Californians looked to the railroad as the state's new savior. But social upheaval and economic disruption came down the tracks along with growth and opportunity.
Analyzing the changes wrought by the railroad, William Deverell reveals the contradictory roles that technology and industrial capitalism played in the lives of Americans, including the railroad barons, newspaper editors, novelists, union activists, feminists, farmers, and the railroad workers themselves.
Location: California State Railroad Museum
Thursday, August 22, 2019- Gordon H. Chang; Olive H. Palmer Professor in the Humanities and a professor of American history at Stanford University. Author: Ghosts of Gold Mountain: The Epic Story of the Chinese Who Built the Transcontinental Railroad to be released May 2019.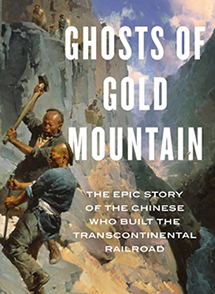 7:00 PM
The recovery and interpretation of the experiences of Chinese railroad workers in North America. 
Award-winning scholar Gordon H. Chang draws on unprecedented research to recover the history of the Chinese workers who built the Transcontinental Railroad, helping to forge modern America only to disappear into the shadows of history until now.
Location: California State Railroad Museum
Saturday, September 7, 2019 – Glenn Willumson, Professor Emeritus University of Florida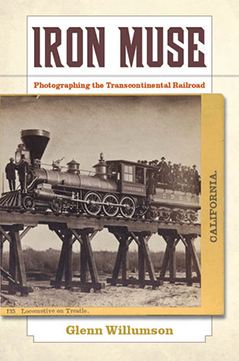 2:00 PM – Photographing the Transcontinental Railroad
Glenn Willumson, professor emeritus at the University of Florida, and author of Iron Muse: Photographing the Transcontinental Railroad, will share his unique expertise on the history and myth-making of the American West created by the power of visual images largely viewed via stereotypes. An advisor to the exhibition, The Race to Promontory: The Transcontinental Railroad and the American West, Willumson will delve into the philosophical, cultural and commercial impact of the railroad in 19th century America.
Location: Crocker Art Museum