History and Hops
Sacramento and brewing have a long history together reaching back to the Gold Rush. In 1849, the first brewery in Sacramento was started at Sutter's Fort, and by the 1880's, Sacramento was known as the West Coast beer capital!
Today, Sacramento and the surrounding region continues to be a craft beer hotspot with some of the most unique and inspired brews in the country. The Sacramento History Museum will be highlighting this legacy with an evening of local craft beers, Gold Rush saloon games, local cuisine, live music, and trivia!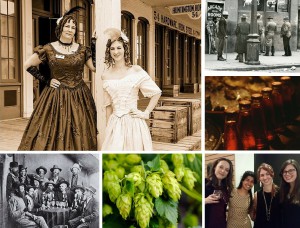 Please join us for the Sacramento History Museum's second annual, "History and Hops" on May 18, 2017 from 5:30 – 9:00 pm at the Sacramento History Museum. Delve into your city's history and discover the rich and unique offerings of local breweries!
Please note this event is only for guests 21 and over.
Tickets are $25.00 and include beer tastings of local craft brews, delicious bar bites, and more! Sacramento History Museum Members are FREE! It is highly recommended that members reserve their spots in advance as this event can sell out.

Interested in becoming a Sacramento History Museum Member?
In addition to free tickets for special events throughout the year such as this one, members are receive free year-round admission, tour ticket discounts, museum store merchandise discounts, and more!