How the West was Drawn!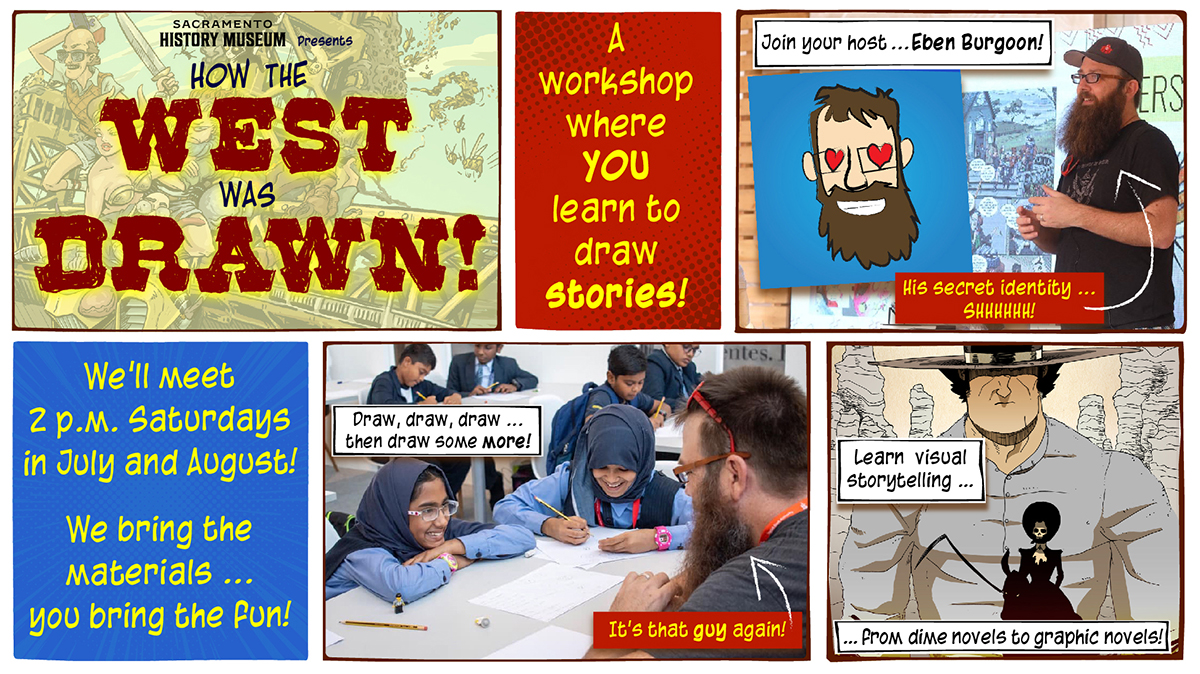 Comics are as old as recorded history, and a surprisingly big part of the Old West. Join the Sacramento History Museum and Eben Burgoon for How the West Was Drawn! – A hands-on, visual storytelling workshop tracing the lineage from the 1800s dime novel to the graphic novel of today.
How the West Was Drawn! comprises five Saturday sessions in July and August, each broken up into 30 minutes of lecture time and 30 minutes of hands-on activity. The Sacramento History Museum is proud to host the workshops, which also give you the opportunity to explore the rich illustration in our newest exhibit, California in Print.
Session One: The Exhibit + Storytelling Lab – July 9 2:00 pm – 3:00 pm
A look at writer Joseph Campbell's monomyth theory – Campbell was a major influence on George Lucas' Star Wars universe – and how it applies to storytelling tools for a writer. It includes a 30-minute free writing session.
Session Two: Comics & Zine Making Lab – July 16 2:00 pm – 3:00 pm
A look at comic book stories that pair art and story – plus 30 minutes for making our own zines.
Session Three: Guest Cartoonist with Dan Bethel – July 23 2:00 pm – 3:00 pm
Learn storytelling and illustration alongside D. Bethel, the creator of the Western genre webcomic, Long John. A Sacramento-based author and illustrator, D.Bethel will show you his approach to telling impactful stories in comic book form, and follow with a Q&A session.
Session Four: Wild West Characters and Archetypes – July 30 2:00 pm – 3:00 pm
By blending Joseph Campbell's heroic characters, LEGOs, and the Wild West, we'll create and design the main characters & supporting characters you need for your comic and dime novel.
Session Five: Putting it All Together – August 13 2:00 pm – 3:00 pm
A capstone session to tie everything together, chock full of art creation tips, and practice skills.
About Eben
With over a decade of experience writing and telling stories, Eben's primary focus has been writing comic books. Burgoon is best known for his work in comic books since 2007. Eben has been a welcomed guest internationally of comic book events, book festivals, and Maker Faires. From Berlin, Rome, and Vilnius, to China, Cairo, and the United Arab Emirates, Eben's work has been celebrated and connected with people of a wide and diverse swath of humanity. He is based in Sacramento, CA, with a cat, two dachshunds, and one very special lady.
About D. Bethel
Bethel, creator and writer-artist of Long John, has been writing and drawing comics for a decade. In fact, his previous work on Eben07 (www.eben07.com) brought him to some public attention for the six years that he co-created, co-wrote, and illustrated that webcomic. Simultaneously a comicker, a podcaster, and a professor of Composition and Rhetoric at CSU, Sacramento, he resides in Sacramento with his wife, Nicole, their two cats, and dog, Rusty.
All workshops are held on Saturdays@ 2:00 pm
July 9 – Session One: The Exhibit and Storytelling Lab
July 16 – Session Two: Comics and Zine Making Lab
July 23 – Session Three: Guest Cartoonist with Dan Bethel
July 30 –Session Four: Wild West Characters and Archetypes
August 6 – **BREAK** – students are encouraged to finish up any unfinished projects
August 13 – Putting it all Together (Closing Session)
Open to all ages – 24 student capacity – minimum of 12 students to hold series
Cost – $125 per student for the whole 5-week series ($25 per session)