Disneyland Resort® Raffle
Celebrate 100 Years of Disney©
Extra! Extra! We're Having a Raffle!
Did you know Sacramento received a touch of magic from Walt Disney?
Eleanor McClatchy, as President of the McClatchy Corporation, requested Walt to create a definitive mascot for the McClatchy newspapers and radio stations.
On September 4, 1943, Scoopy Bee and his twin Gaby were introduced. Scoopy, with paper in hand, represents their newspapers including the Sacramento Bee while Gaby, with his microphone, represents the radio stations KFBK.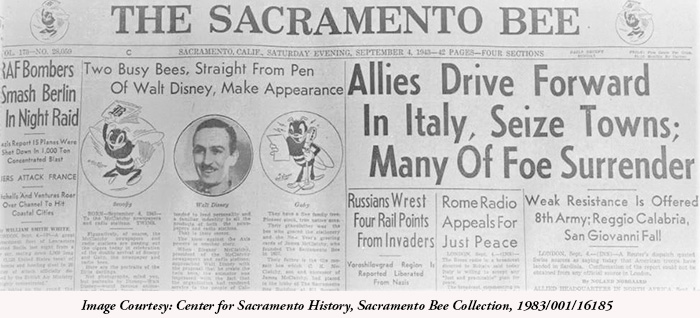 The Walt Disney Company© is celebrating 100 years in 2023 and we want you to be part of the celebration!
Now to March 5, 2023, you can enter a raffle to win four (4) 2-Day, 1-Park per day tickets for the Disneyland Resort® – Disneyland and Disney's California Adventure. Raffle tickets are just $20 each and may be purchased at the Museum or on our website, SacHistoryMuseum.org. The winner's name will be drawn LIVE on Wednesday, March 8 on our TikTok and Facebook pages. Money raised from this fundraiser support our education programs and scholarship fund to assist with cost of field trips to the Sacramento History Museum.

You must be 18 years or older to participate. Winner is responsible for reserving their dates to visit the parks. Disney Park tickets are valid through September 15, 2023. Need not be present to win.