2019 History Camp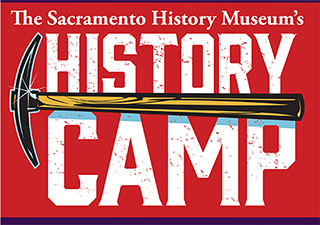 General Camp Information:
Old Sacramento History Camp is held in Old Sacramento. It is located in the Sacramento History Museum's Living History Center, located across from the museum on Firehouse Alley.
Children will visit Old Sacramento museums, state historic parks, and local historic sites during their camp stay. Each week contains different field trips, activities and crafts.
Themes are as follows:
July 8th-12th HISTORY LIVE! Campers will spend the week rehearsing a play based on Sacramento during the Gold Rush, with a special performance for parents the last day of camp. SOLD OUT

July 15th-19th GOLD FEVER! Campers will discover California's Gold Rush history. SOLD OUT

July 22nd-26th DIG IT! Campers will spend the week exploring different occupations related to history. This week is recommended for children 8 and above. SOLD OUT

BUNDLE WEEKS AND SAVE!  Interested in signing your child up for more than one week of camp? Give us a call at (916)808-7059 to sign up and save for more than one week of camp! Any combination of weeks is possible.
Parents/Guardians must sign their children in and out of camp daily. Only authorized parents/guardians or person will be allowed to sign their children in and out of camp. If you arrange for another person to drop off or pick up your child, you must fill out the Release Authorization Form for drop-off and pick-up for each person being authorized to perform this duty.
Registration packets must be completed and submitted for each child/camper prior to the first day of camp, including any food and animal allergies and all medical needs.
Welcome packets will be sent out one month prior to camp and will include a daily itinerary, map, and information on field trips, lunches, clothing requirements, etc.
Become a Sacramento History Museum Member for only $60 and save on camps!
$225 for members, $265 for non-members
Bundle 2 weeks: $425 for members, $500 for non-members
Bundle 3 weeks: $645 for members, $725 for non-members
Extended Care Options
We offer extended care from 7:30am-9:00am and 4:00pm-5:30pm. The cost is $30 per day or $125 per week. Extended care may be added now or at a later date after the camper is registered.
Registering for Camp
Complete this packet for EACH child that will be attending. Completed packets must be received prior to the first day of camp for a child/camper to be registered.
Be sure to select a camp session. If you would like to enroll your child in multiple sessions, please mark each one.
Please complete the Old Sacramento History Camp Enrollment Form
Please complete and sign the Release and Indemnity Agreement
Please complete the 2019 Old Sacramento History Camp Health History Form and be sure to sign and date the last page.
Registration will not be complete until payment has been received. Payments may be made online, in person, or over the phone.
To register online visit sachistorymuseum.org
To register by phone please call the Museum front desk at (916)808-7059 and have a credit card ready. The entire payment must be made at time of registration.
Return this completed packet for each child to svoskuil-starcevich@cityofsacramento.org or mail to:
Sacramento History Museum
Attn: History Camp
101 I Street
Sacramento, CA 95814
Questions? Please contact Susan Voskuil-Starcevich at svoskuil-starcevich@cityofsacramento.org 
Please fill out the following Camp Enrollment Form
If you would prefer to print and fill out the form, please click here
and go to bottom of the page to proceed to payment.
Please fill out the following Release Authorization Form before submitting your payment

Release Authorization Form for Drop-Off and Pick-Up
If someone other than the child's parent/guardian is authorized to pick up the child, an authorization form must be submitted for each authorized person. A child will not be allowed to leave with another person unless authorized to do so by the parent/guardian.
If, due to unforeseen circumstances or an emergency, it is necessary for someone else to pick up your child, a note or telephone call from the parent/guardian is necessary. Please be aware that the person may be asked to identify him/herself before we release the child.
If there are any custody issues, please alert camp staff prior to first day of camp.
Health Information Section
The health information being collected is not part of the camper acceptance process, but is gathered to assist us in identifying appropriate care during camp.
Please note, your registration will not be complete
until payment is processed. Click button below to proceed to the
payment page to complete your registration.