THE SACRAMENTO HISTORY MUSEUM WILL BE CLOSED FRIDAY, NOVEMBER 16 AND SATURDAY, NOVEMBER 17 DUE TO POOR AIR QUALITY FROM THE NORTHERN CALIFORNIA FIRES. GOLD FEVER! AND UNDERGROUND TOURS ARE CANCELLED FOR THE WEEKEND. REFUNDS WILL BE AVAILABLE FOR THOSE WHO HAVE TICKETS TO OLD SACRAMENTO TOURS THIS WEEKEND. WE APOLOGIZE FOR ANY INCONVENIENCE.
Think about Sacramento's past and the Gold Rush comes to mind.  But that's only part of the story.
The Sacramento History Museum is dedicated to Sacramento's rich and diverse history.  Our galleries and exhibits explore the history and stories of the area's first inhabitants, the pioneers who settled here during the Gold Rush, life on the farm, and more.  The Museum also features interactive exhibits that bring to life the people and events of Sacramento and its unique place in the history of California and the nation.
Museum Hours:
The Sacramento History Museum's hours are 10:00 a.m. – 5:00 p.m., 7 days a week.  Last admissions are sold at 4:30 p.m. 
More Tours Mean More Fun!
Give yourself the gift of adventure, history, and maybe even a bit of time travel when you book your tickets for our 2018 tours. Tickets are on sale for Gold Fever! and our Underground Tours.  Underground Tours run Thursdays through Sundays, and don't miss our Exclusive Gold Fever! Tours only on weekends! Click Here for the Tour Page.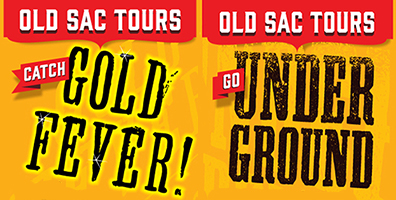 Back to School… and Field Trips!
Calling all educators! September here, and you know what that means? Field Trips! We are now scheduling school field trips for Sacramento History Museum programs, Gold Rush programs, Underground and Gold Fever! tours, and more. To find out more, click here.


---