Think about Sacramento's past and the Gold Rush comes to mind.  But that's only part of the story.
The Sacramento History Museum is dedicated to Sacramento's rich and diverse history.  Our galleries and exhibits explore the history and stories of the area's first inhabitants, the pioneers who settled here during the Gold Rush, life on the farm, and more.  The Museum also features interactive exhibits that bring to life the people and events of Sacramento and its unique place in the history of California and the nation.
Museum Hours:
The Sacramento History Museum's hours are 10:00 a.m. – 5:00 p.m., 7 days a week.  Last admissions are sold at 4:30 p.m. 
More Tours Mean More Fun!
Give yourself the gift of adventure, history, and maybe even a bit of time travel when you book your tickets for our 2018 tours. Tickets are on sale for Gold Fever!, Underground Tours, and the After Hours Underground Tours. Our Underground Tours are now 7 days-a-week,  and don't miss our Exclusive Gold Fever! Tours only on weekends! Click Here for the Tour Page.

It's Blue Star Museum Time Again

The Sacramento History Museum is is proud to be one of seven Sacramento area museums who will offer free admission to active military and their families through Labor Day (September 3), 2018. Blue Star Museums is a collaboration among the National Endowment for the Arts, Blue Star Families, the Department of Defense and more than 2,000 museums across America to offer free admission to all active duty military personnel and their families through Labor Day (September 3), 2018.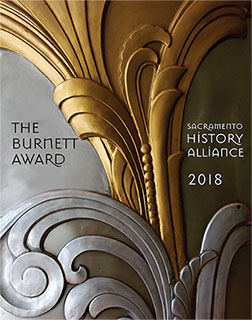 First Annual Burnett Awards for Venerable Sacramento Businesses, October 11, 24th Street Theatre

We are pleased to announce The Burnett Awards, a benefit for two of Sacramento's Historic Treasures – the Sacramento History Museum and the Center for Sacramento History. 
Join us in celebrating local businesses at the Burnett Awards on October 11, 2018 at the 24th Street Theatre. Each year we will honor businesses that have met the test of time.  They may not always be the oldest, but they will be "old enough".  In Old England they would be called venerable. To purchase tickets and sponsorships, click here 
Hurry! Tickets are limited!
Back to School… and Field Trips!
Calling all educators! September is right around the corner, and you know what that means? Field Trips! We are now scheduling school field trips for Sacramento History Museum programs, Gold Rush programs, Underground and Gold Fever! tours, and more. To find out more, click here.